Description
The maple models warmth will give the perfect accent to your interior decor and lighten up the whole house.
Fit for Home, Fit for Life
Blending with the furnitures and flooring, PSR-E360 will upgrade your house without bothering the living space.
Enjoy playing PSR-E360 anywhere in the house. Its designed to be slim and light weight so you can comfortably play it anywhere.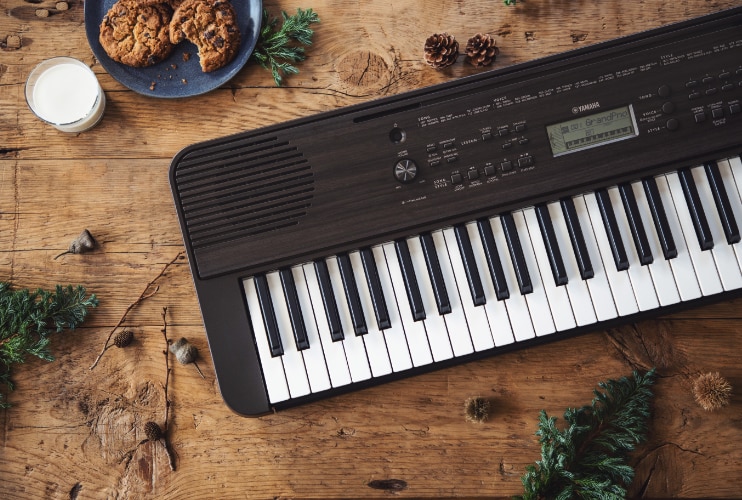 PSR-E360
Dimensions
Width
940 mm (37)
Height
100 mm (3-15/16)
Depth
316 mm (12-1/2)
Weight
Weight
4.0 kg (8 lb, 13 oz) (not including batteries)
Keyboard
Number of Keys
61
Touch Response
Yes
Display
Type
LCD display
Language
English
Panel
Language
English
Tone Generation
Tone Generating Technology
AWM Stereo Sampling
Polyphony
Number of Polyphony (Max.)
32
Preset
Number of Voices
384 Voices + 16 drum/SFX kits
Types
Reverb
9 types
Chorus
5 types
Master EQ
6 types
Ultra-Wide Stereo
3 types
Functions
Panel Sustain
Yes
Preset
Number of Preset Styles
130
Fingering
Multi finger
Style Control
ACMP ON/OFF, SYNC START, START/STOP, INTRO/ENDING/rit, MAIN/AUTO FILL
Other Features
One Touch Setting (OTS)
Yes
Preset
Number of Preset Songs
112 (including Chord Study: 12)
Recording
Number of Songs
1
Number of Tracks
1
Data Capacity
Approx. 300 notes
Compatible Data Format
Recording
Original File Format
Lesson/Guide
Lesson/Guide
[1 LISTEN & LEARN], [2 TIMING], [3 WAITING], [A-B REPEAT], [CHORD DICTIONARY]
Overall Controls
Metronome
Yes
Tempo Range
11 - 280
Transpose
-12 to 0, 0 to +12
Tuning
427.0 - 440.0 - 453.0 Hz (approx.0.2Hz Increments)
Duo
Yes
Miscellaneous
PIANO Button
Yes (Portable Grand Button)
Connectivity
DC IN
12 V
Headphones
Standard stereo phone jack (PHONES/OUTPUT)
Sustain Pedal
Yes
AUX IN
Stereo mini jack
Amplifiers
2.5 W + 2.5 W
Speakers
12 cm x 2
Power Consumption
6 W (When using PA-130 AC adaptor)
Auto Power Off Function
Yes
Power Supply
Adaptors
AC Adaptor PA-130, PA-3C, or an equivalent recommended by Yamaha
Batteries
Six 1.5 V "AA" size alkaline (LR6), manganese (R6) or six 1.2 V "AA" size Ni-MH rechargeable batteries (HR6)
Included Accessories
Music Rest
Yes